Facilities and Resources
Laboratory:
Our Lab is located on the fourth floor in the Eckstein Medical Research Building (EMRB). The total space allocation is 2000 sq. ft. There is adequate lab bench and desk space for each trainee. Our lab is contiguous with other investigators who are interested in molecular / immunologic questions. We have designated spaces for equipment and for radioactive work.
Office:
Dr. Morita's office is contiguous with his laboratory. He is available on a daily basis to meet with students and trainees. Adjacent to the lab, we have office space for students and trainees.
Equipment:
All of the large pieces of equipment necessary for our research are currently available in the lab including a -80 C freezer, two -20 C freezer, and liquid nitrogen freezers (20K), four 6 foot tissue culture hoods with room for 8 people, four large tissue culture incubators, a Gene-mate PCR machine, table-top cell centrifuges and microcentrifuges, a bacterial shaker, a Molecular Devices "vmax" micro plate reader, an FPLC, two Ranin HPLCs, a BioRad "gene pulser" electroporator, protein / agarose gel electrophoresis equipment, and dual gel dryers. We have a Betaplate Scintillation counter with a 96 well Tomtech Harvester for the rapid and automated harvesting and counting of proliferation and cytotoxicity assays.
---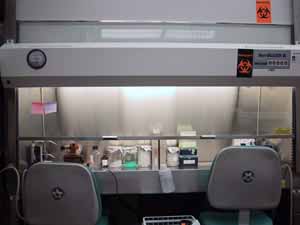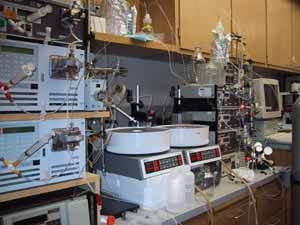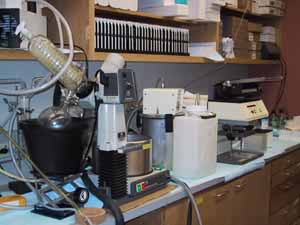 Other equipment available for use include Sorvall and ultra centrifuges, a spectro-photometer, B-D FACscan machine, a Molecular Dynamics "Storm 860" Phospho-imager, and Image-analysis equipment.
The lab is equipped with personal computers, FAX, laser printers (HP4050N and a color laser Okidata c7550). Three Power-Mac G5's, Two Power-Mac G4's, Three Powerbook G4's and one pentium PCs are networked locally, and to the University System for direct access to University of Iowa Technology Services and the Internet.
Reference Material:
The PI subscribes to the Journal of Immunology, Immunity, and Arthritis and Rheumatism. He also has online subscriptions to PNAS, Immunity, Science, and the Journal of Immunology. Online access to the European Journal of Immunology, International Immunology, Journal of Clinical Investigation, and Journal of Biological Chemistry are also available. We have access to "online subscriptions" to many journals through the university, and our lab aggressively searches for current articles in related areas and we report on these searches on a regular basis.
The Morita lab is within close walking distance to the Hardin Library for the Health Sciences.
---
Other Support Facilities:
Many excellent "core" facilities exist at the University of Iowa and are available to assist all members of the lab with research concerns. Many of the core research facilities provided by the College of Medicine are sited in the EMRB since it is the newest building on campus. The list below provides a link to many of the relevant support facilities.
---
---
400 EMRB | The University of Iowa | Iowa City, IA 52242 | 319-335-9982
© 2007 The University of Iowa