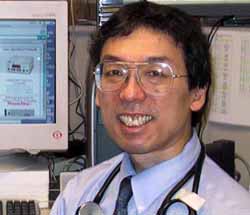 Craig T. Morita, M.D., Ph.D.
Associate Professor
craig-morita@uiowa.edu
Craig Morita was an undergraduate at the University of California, Berkeley, then received his MD and PhD degrees at the University of California, San Francisco in the Medical Scientist Training Program. He completed his clinical training in Internal Medicine at the University of California, San Diego and the Univeristy Hospital, Boston University School of Medicine. He did his Rheumatology Fellowship at the Brigham and Women's Hospital and the Harvard Medical School. in the laboratory of Dr. Michael Brenner. He continued at Harvard as an Instructor in Medicine and then as an Assistant Professor in Medicine. Craig joined the faculty at the University of Iowa in 1998 and has appointments in the Department of Internal Medicine. Craig is also a member of the Interdisciplinary Graduate Program in Immunology.
---
400 EMRB | The University of Iowa | Iowa City, IA 52242 | 319-335-9982
© 2007 The University of Iowa