The Lubaroff Lab is located on the third floor of the Roland and Ruby Holden Cancer Research Laboratories in the Medical Education and Biomedical Research Laboratories (MERF). The laboratory shares common equipment space on the third floor and also occupies rooms 3219A – E and the tissue culture laboratory in room 3241B.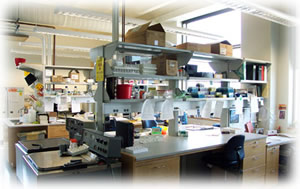 The research in the laboratory focuses on tumor immunology and immunotherapy with an emphasis on the development of therapeutic vaccines for prostate cancer. Toward that end we have developed a vaccine in which the gene for prostate specific antigen (PSA) has been inserted into a replication deficient adenovirus. This adenovirus/PSA (Ad/PSA) vaccine has been shown to induce strong anti-PSA immune responses as evidenced by the presence of anti-PSA antibodies and anti-PSA T cells. Protective immunity to a challenge with PSA-secreting mouse prostate tumor cells can be demonstrated in mice immunized with the vaccine. The destruction of established tumors can be accomplished by the combination of Ad/PSA vaccine immunization and cytokine gene therapy using viruses that produce IL2, IL12, and TNFa. We are also investigating the augmentation and modulation of anti-tumor immune responses by the use of CpG oligodeoxynucleotides and the development of other microbial vaccines that would induce vigorous anti-prostate tumor immunity.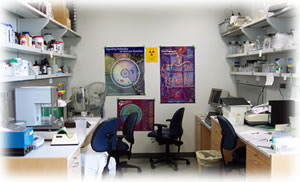 Studies on the molecular mechanisms of prostate tumor metastasis have been carried out in collaboration with the laboratory of Dr. Mary Hendrix. These studies have demonstrated that cells that express the homotypic adhesion molecule E-cadherin are less likely to induce metastatic lesions than cells that have lost expression of the molecule. Other studies have demonstrated that aggressive prostate tumors exhibit "vasculogenic mimicry" in which tumor cells form vascular channels to permit blood flow to the tumors.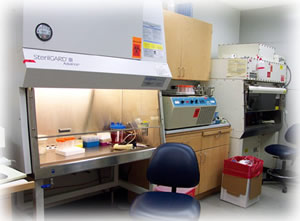 Collaborations with the laboratory of Dr. Susan Lutgendorf are addressing the role of psychological factors on immune function in women with ovarian, cervical, and breast cancers and the role these factors may have on disease progression.

Research in the laboratory is assisted by the outstanding team of people listed below.
Jeanne Howard
Research Assistant
howardjg@mail.medicine.uiowa.edu

BA, Mt. Holyoke University
MS, Kansas State University

Jennifer Paisley
Research Assistant
jennifer-paisley@uiowa.edu

BA, BS, University of Iowa

Dev Karan
Postdoctoral Fellow
dev-karan@uiowa.edu

BS, M.D. University, Rohtak, India
MS, M.D. University, Rohtak, India
Ph.D., M.D. University, Rohtak, India
Research Associate, University of Nebraska

Stephanie McGinn
Research Assistant
stephanie-mcginn@uiowa.edu

BS, University of Iowa

Daniel Pederson

Research Assistant
daniel-pederson@uiowa.edu

BA, Grinnell College

Marjorie Kuperman
Office Assistant to the VA REAP in Prostate Cancer
marjorie-kuperman@uiowa.edu